These are just a few of our clients whose fantastic results speak for themselves! However please take a moment to read what they have to say about their experience with the team.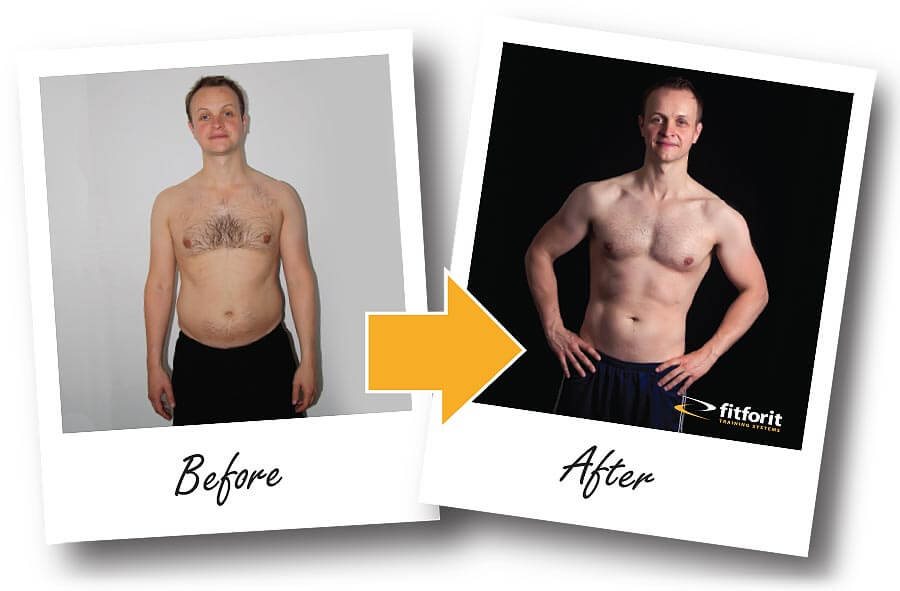 CHRIS – LOST 2 STONE WHILST INCREASED LEAN MUSCLE
From the first session I had with rob I new I was hooked. Before I started training I had put on weight and my energy levels were at an all-time low. I was bored with the gym and wasn't getting any noticeable results doing the same old routine.The results came quickly and kept coming.
The workouts are always different and tailored to suit my needs. I have been training now for 3 months and have lost two stone whilst gaining lean muscle. My energy levels are through the roof and I love to train. The education I have received has been exceptional and I now have the nutrition and exercise knowledge to ensure I never slip into my old habits. If you want results I can't recommend Fitforit enough. The experience has been life changing.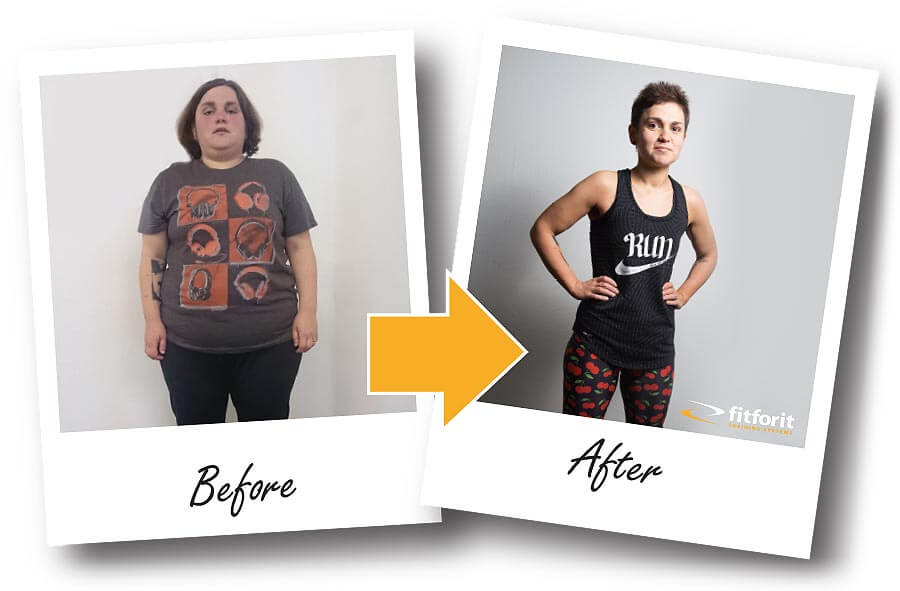 JENNY – LOST 6 STONE AND COMPLETELY TRANSFORED HER BODY
Before I started training with Emma at Fitforit Training Systems I was significantly overweight, did no exercise and had a really unhealthy relationship with food. I was actually terrified of working out, after all those horrible memories of school PE, and ate a hugely carb-heavy diet. After just one year working with Emma, I had lost six stone, and 25% of my bodyfat. Best of all, I now absolutely love training, and it has become a integral part of my daily life.
Due to an emphasis on becoming (and looking) stronger rather than just losing weight, my body shape has changed dramatically and I have really enjoyed seeing the increase in muscle tone, whilst still feeling feminine. Emma has also helped me get a handle on my relationship with food, and managed to work around my vegan diet. Fitforit Training Systems has such a positive and fun atmosphere, mainly due to the infectious spirit of all the fantastic trainers. You really feel that you are important to them and that they enjoy what they do.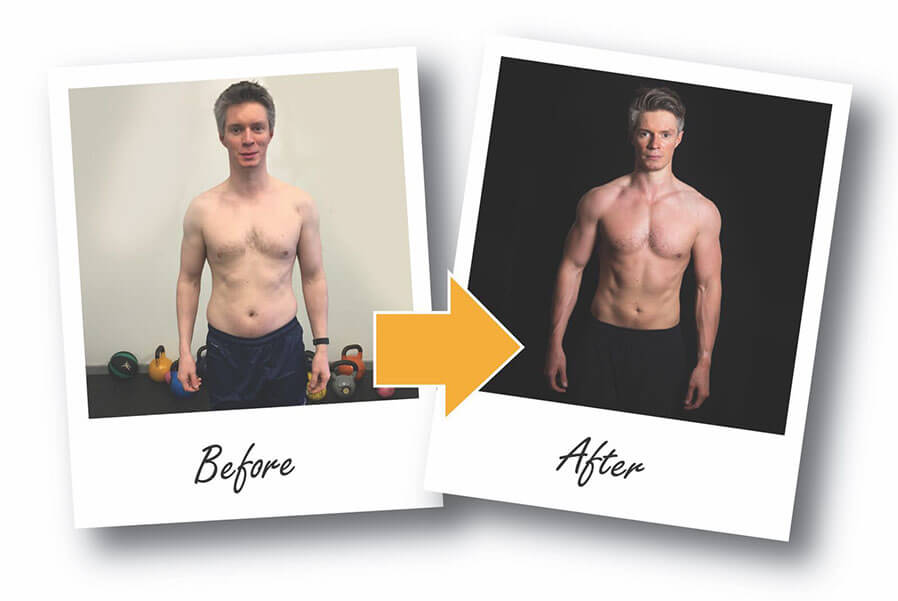 COLIN – GAINED 10lbs OF MUSCLE WHILE DROPPING BODY FAT
II became a client with Rob at Fitforit about 3 years ago. I booked in for a 6 week course to try it out. Rob told me that after 6 weeks I would have lost weight, would be happier with how I looked and would have more energy. He was absolutely right I did and much more so than I expected. What I also didn't expect was that over these 6 weeks he would teach me how to train on my own, learn about nutrition and how to maintain a healthy diet. I felt great, as if I was 10 years younger. I knew that I could have maintained this on my own but I immediately booked up for further sessions and have now been a regular for 3 years(that's 3 years of terrible "Rob chat"). I love training at fitforit and can't recommend these guys highly enough, even the terrible chat.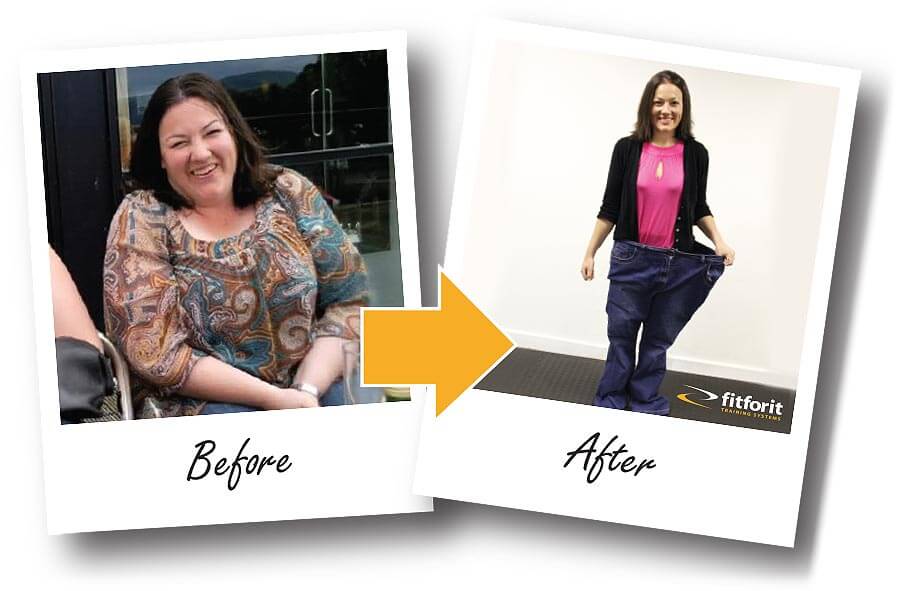 ALISON – LOST 5 STONE WITH BOOTCAMPS & PERSONAL TRAINING
Through following the advice of the trainers at fitforit I found I could eat more, eat a wider variety of foods and still lose weight! Since undertaking their personal training programme I feel so much healthier, I sleep better and my hair and skin are also in much better condition. I aim to continue to develop my fitness levels and will always be grateful to the fitforit team for setting up the programme, providing constant support, encouragement and motivation whilst continually striving to push me to higher limits. I would highly recommend them.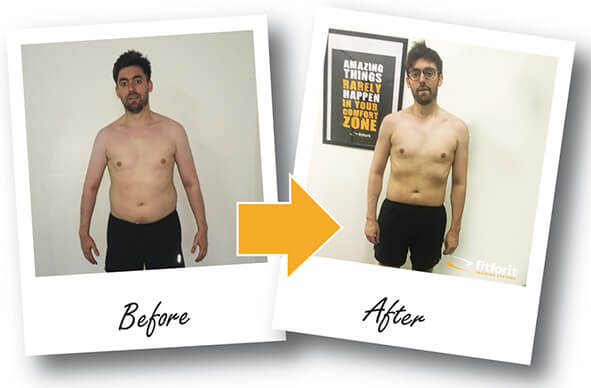 JONATHAN – LOST OVER 2 STONE WHILE SHRINKING HIS WAISTLINE
Having largely avoided exercise for most of my twenties, I found myself the inheritor of 'the Saturday night take away gut'. Although I dabbled with a corporate gym membership and block of personal training sessions, I failed to gain any motivation and was put off by the 'frat house, testosterone driven' mentality that pervades many of the larger gyms. It was in fact this very testimonial page that made me make contact with Rob for the first time. I was struck by the notable positive physical changes people had achieved with Fitforit.
I've now been training with Rob for over a year now and can account that he is a perfect blend of being encouraging, motivating, knowledge and most importantly a really decent guy.I am really proud of the goals I have achieved. My strength and coordination as well as energy levels have drastically improved. I feel better about myself and look a fair bit better in a white t-shirt. I genuinely couldn't recommend Rob and his team more. For all those of you who read this and need the push – go for it – they really get results!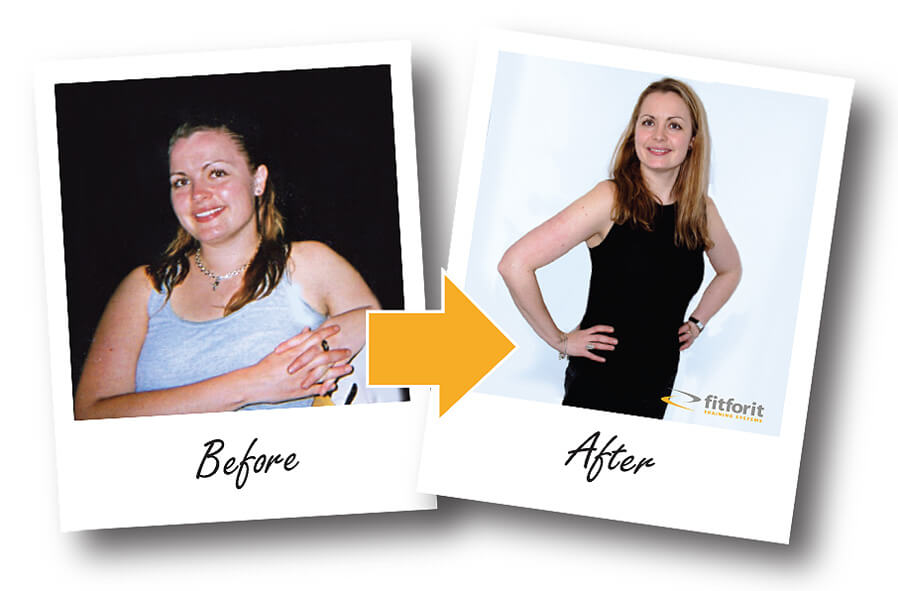 CLAIRE – LOST 2.5 STONE AND SHRUNK 3 DRESS SIZES
Hallelujah for "Fitforit". I have never been a natural 'athlete' and found my weight creeping up on me over the years. I tried lots of methods to lose weight. They took ages and had just a little result. The training was intense but the results were immediate. For the first time, I not only lost weight but my body shape changed dramatically. I followed a weekly routine 3 times a week…it took no more then 12 minutes! I was also provided with an eating plan and was never hungry! I couldn't recommend 'Fitforit' enough.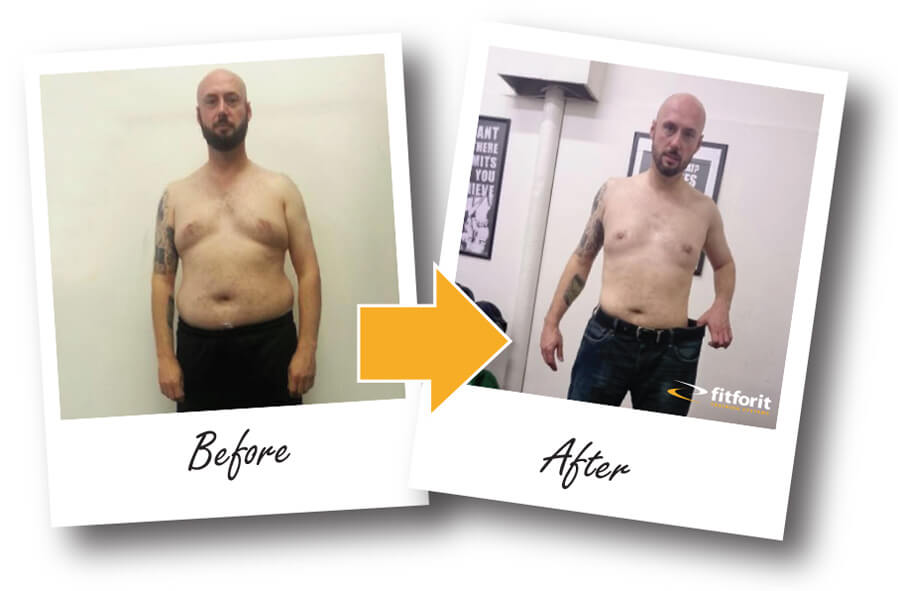 STEVEN – LOST OVER 3 STONE AND 8 INCHES OFF HIS WAIST
Working with Emma on my fitness has been both rewarding and fun! I have achieved my personal goals of losing weight, toning up and increasing my overall fitness.  Emma's infectious personality and enthusiasm is a great motivator and she has helped me not only in the gym with the actual training, but also with raising my awareness of good nutrition and dietary requirements to complement my training. The program that Emma devised for me is tailored towards my individual goals and built around my busy working commitments.  Working with Emma has been very effective and now that I've achieved my original goals I'm setting new ones for the future
Within a couple of week I started to feel the difference in my clothes.  For the first time in years I am not calorie counting and definitely look and feel in better shape than I have in a long time.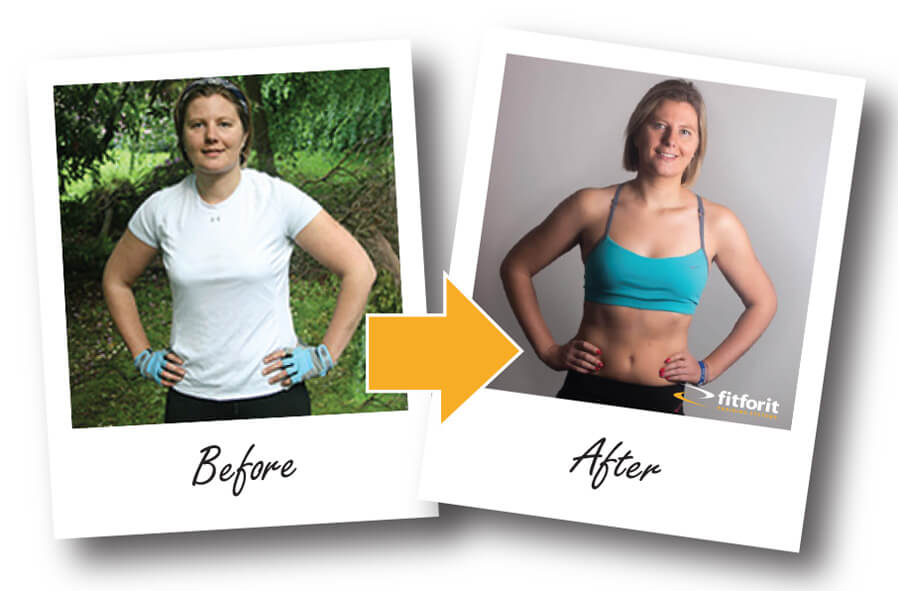 JEN – LOST 2.5 STONE WHILST BOOSTING ENERGY
I have had a number of personal trainers and normally after a short while been board and have not felt I was achieving my goals, however this has been completely different – Rob has made sure I am constantly challenged, always focused on what ever goal we set. When I started I felt unfit, sluggish and unmotivated, now I look forward to working out and have loads of energy. Not only has training helped me physically to feel fit but I am more effective at work due to increase energy levels and the ability to concentrate." I've now been training with fitforit for over 6 years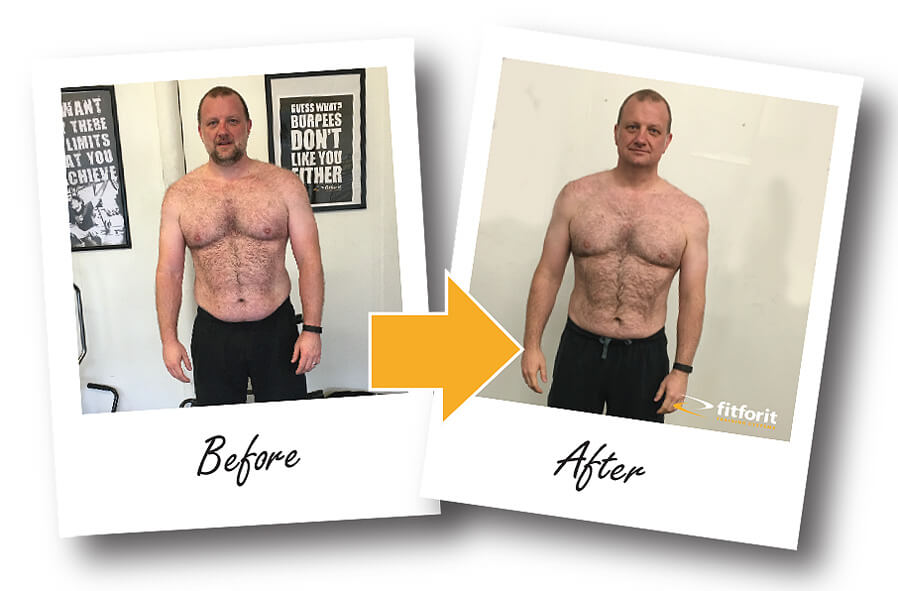 NICK – LOST OVER 2 STONE WHILE INCREASING LEAN MUSCLE
Around March of last year I was 17st3lbs and needed to train to take part in Tough Mudder. I joined bootcamp on the recommendation of a friend. The first few session were tough but I really enjoyed the group, the outdoors sessions and the instructors were excellent helping you through the exercises and pushing you just enough. I went on to lose a stone in weight and really improve my fitness and flexibility, enough to complete Tough Mudder 4 months later.
After a year my weight plateaued at around 16st so I decided to try personal training with Rob at Fitforit. With dietary and training advice I would never have thought of on my own I have lost a further 23lbs in only 4 months!! Now with a mix of bootcamp and PT sessions with Rob I have never felt fitter, stronger and less fat! I'm having to buy a new wardrobe and a belt I could barely fit into 15 months ago is on the last notch!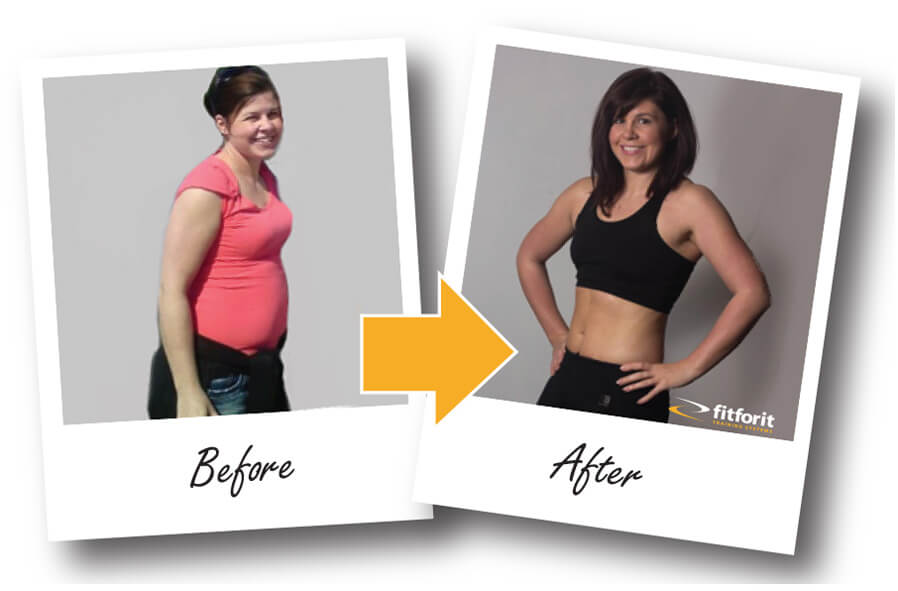 KAREN – LOST OVER STONE AND DROPPED A DRESS SIZE
I had already been attending bootcamp when I decided that I wanted an extra push to get the results that I wanted so I contacted the team for personal training. In the free consultation Rob asked what results I was looking to achieve.  I told him that my tummy area was my main gripe and that no matter what I was doing it didn't seem to get any flatter.  Rob spoke to be about my diet and ask for typical days eating. Rob very quickly identified that my main problem was coming from my nutrition.  He explained that certain food groups aggravate the digestive system. I was provided with information and recipes to help me get started. The nutrition side is not difficult and actually makes a lot of sense.
Within a couple of week I started to feel the difference in my clothes.  For the first time in years I am not calorie counting and definitely look and feel in better shape than I have in a long time.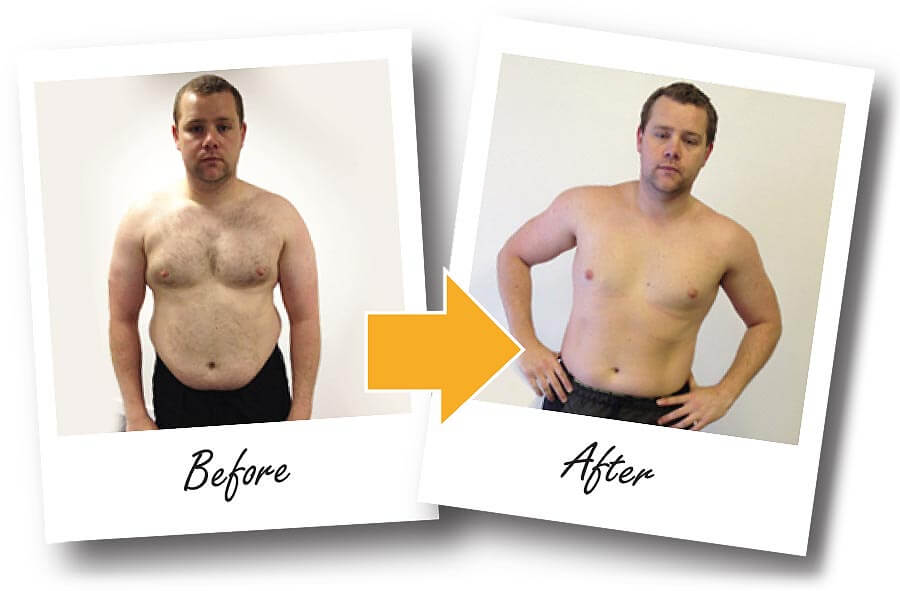 EDDIE – LOST 2 STONE WHILST INCREASED LEAN MUSCLE
Making the call to Fitforit was the most important decision I've ever made regarding my health and fitness. He has helped me lose weight, become much fitter and generally more positive, as well as to achieve better control of my type1 Diabetes. The style of training has been both enjoyable and educational, to the point where I no longer bother with a gym membership as all workouts I do are either at home or at the fitforit Bootcamps.The personal training has been second to none and I love the fact that they are continually focused on all aspects of my lifestyle. Thanks to Fitforit, my understanding of the importance of good nutrition, regular exercise and recovery has improved greatly over the past year.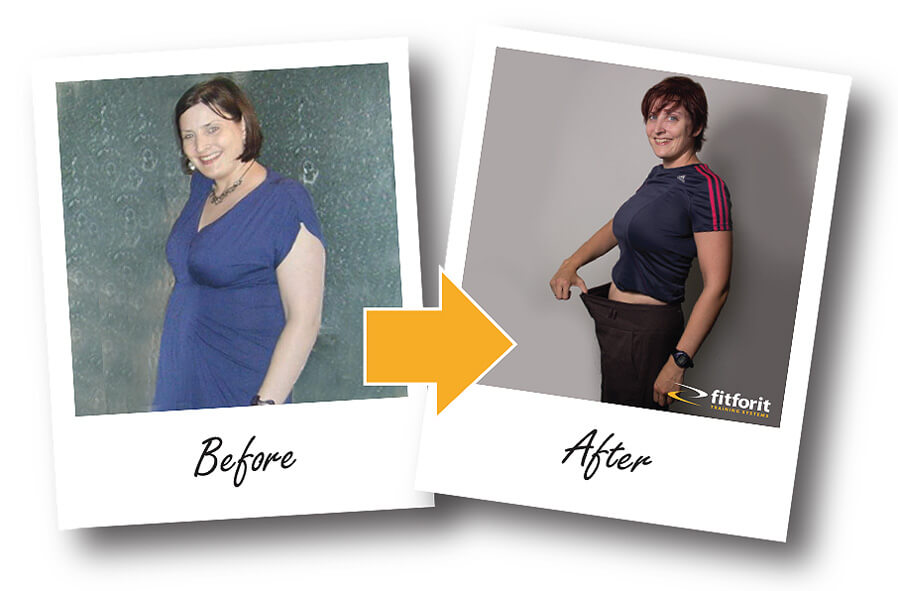 MO – LOST 2.5 STONE AND SHRUNK 3 DRESS SIZES
I joined Parkfit Bootcamp in April 2011. I joined because my weight had started to spiral out of control. I thought my height was allowing me to get away with it until one day I found myself buying size 18 trousers. I tried various gyms and classes but always found an excuse not to go. I made excuses when I started Bootcamp too, didn't go if it was raining or too hot, but suddenly I started seeing results. I wasn't huffing and puffing going up stairs, wasn't lethargic, had much more va va voom to go out for a walk. I stopped making excuses and just kept at it. It didn't happen over night, but with the support of not only the great trainers, but also the great friends I have met through Bootcamp, I found myself enjoying the workouts in the wind, rain, snow and whatever else Mother Nature threw at us! At my heaviest I was nearly 15stone and am now 13stone. And have dropped 3 dress sizes I can't thank Fitforit enough for all they have done for me, I dread to think where I would be without them!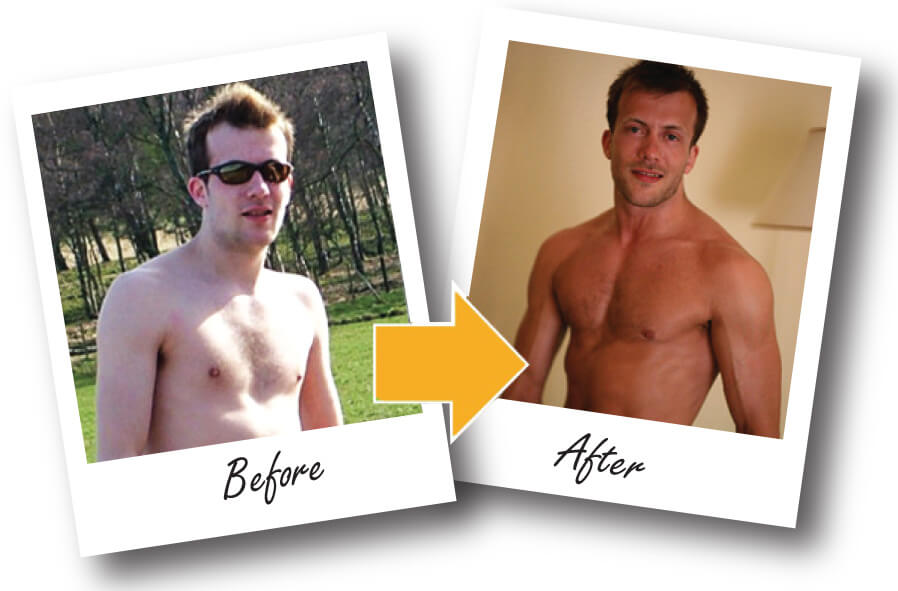 ANDREW – PUT ON 2 STONE IN LEAN MASS MUSCLE
Thanks to fitforit personal training I have managed to achieve results I never thought possible. Being naturally slim I have always found it hard building muscle and putting on weight. Who would have thought that with the right programme and nutritional plan that I would be able to put on 2 stone of lean muscle. My initial training first started with my diet where I aimed to eat 6 meals day all individually designed to give me the nutrients by body needed to build muscle. It was then the hard work began, Strength training, kettle bells, metabolic circuits, interval training and mixed martial arts all help me transform my physique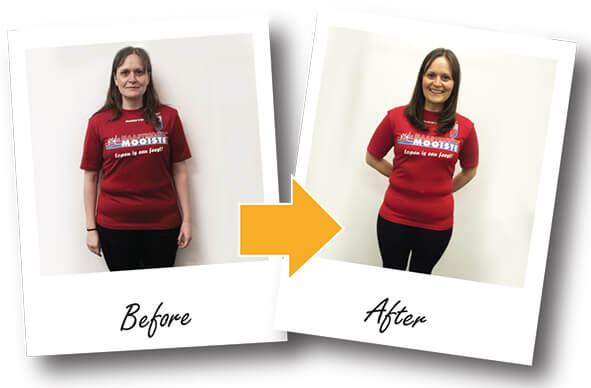 JAN – LOST A STONE IN WEIGHT AND 4 INCHES OFF HER WAIST
Personal training with Rob has revolutionised and continues to revolutionise my life. My muscles, body shape, energy levels, fridge and dinner plate have been radically transformed and I would not go back. Rob is the best fat loss, body transformation champion you will ever meet. He is encouraging, a genius at reading when you can be pushed and expertly compiles workouts that hone the specific parts of your body that still need extra work. What I love is that he is a brilliant advocate of healthy living and training hard as he lives what he preaches. When he puts me through my paces it is often a tried and tested workout that he himself does.
If, like me you lead a busy life, then PT is what you need as weekly workouts are handed to you on a plate and it eliminates your need to plan for yourself. I cannot recommend Fit for It enough, it is so good that I've been doing it for 7 months with no plans to ever stop.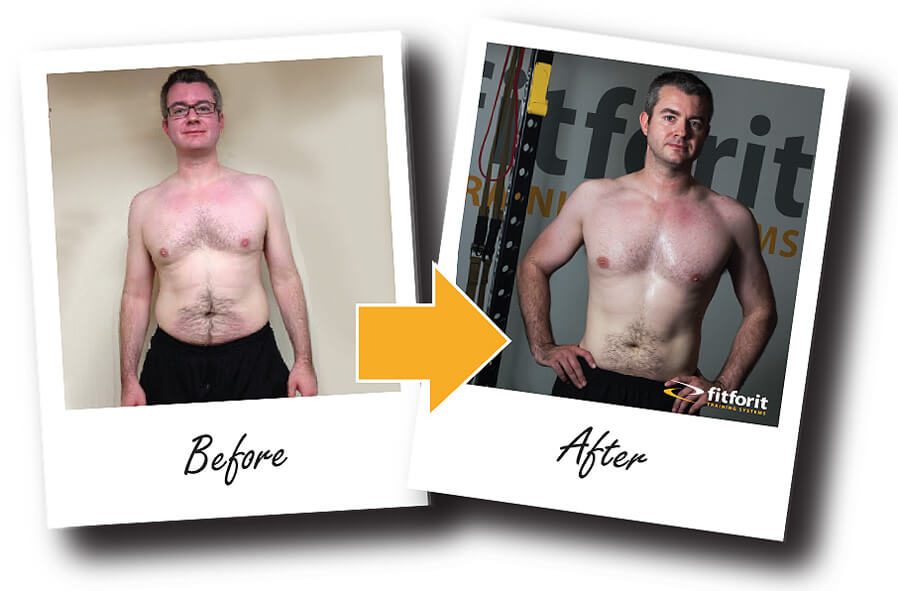 CHRIS – DROPPED HIS BODYFAT BY 10 PERCENT
I've been training with Rob for just under a year and have seen a huge change in my body shape and fitness levels. The fitforit studio is really well equipped and the style of training, mixing a variety of strength, cardio and functional bodyweight exercises really suits me. I've also had great advice on nutrition – no fad diets or prison food, just realistic (and tasty!) healthy eating.  I feel great, I've never been fitter and am pretty pleased with the aesthetics too! I'd highly recommend training with fitforit if you want great, sustainable results.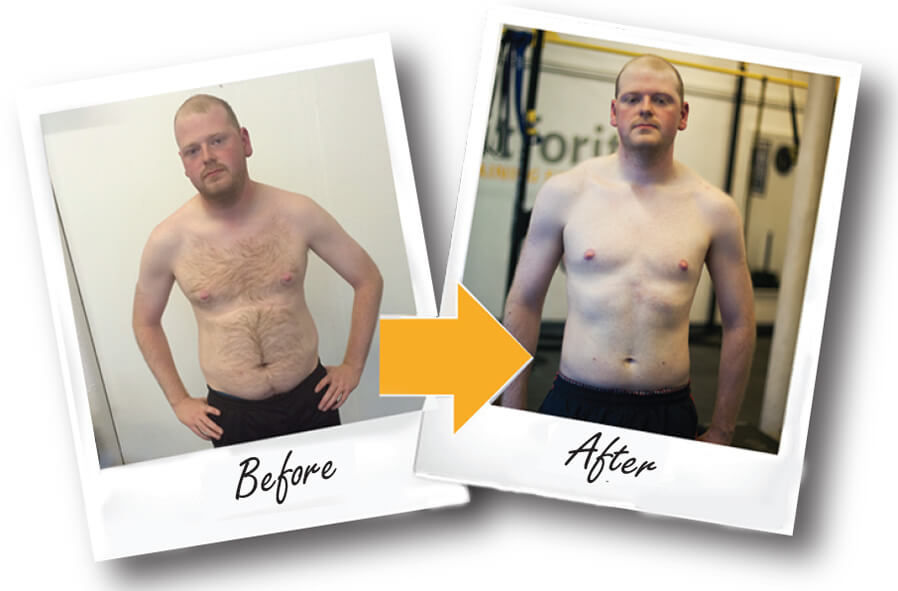 STUART – LOST OVER 2 STONE WHILE INCREASING LEAN MUSCLE
I first contacted fitforit as I wanted to lose weight, build muscle and improve my over all fitness. Up until then I had only played the odd game of five a sides with friends and had never really set foot in a commercial gym. Initially the training was hard, but after a few weeks my muscles began to adapt and I very quickly started to see results. This was further accelerated when I started adopting the nutrition advice. I now feel comfortable training in commercial gyms thanks to the knowledge I have gained from my experience and still train regularly with the team at fitforit.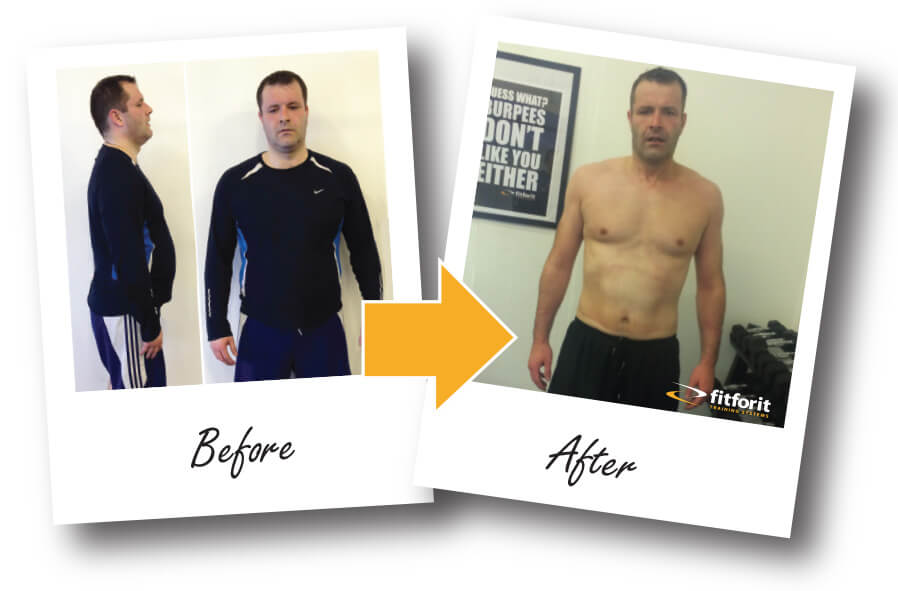 GRAHAM – LOST OVER 3 STONE AND DRAMATICALLY TRANSFORMED HIS FITNESS
I first contacted fitforit after steadily putting weight on over the last few years. Soon after starting I noticed changes in not only my weight and shape but my lifestyle changed also. I started to put some thought into what I was eating and drinking rather than just taking the quickest or simplest option from the fridge. I have been in various Gyms over the years and never had the variety or enjoyment in my training as I do now.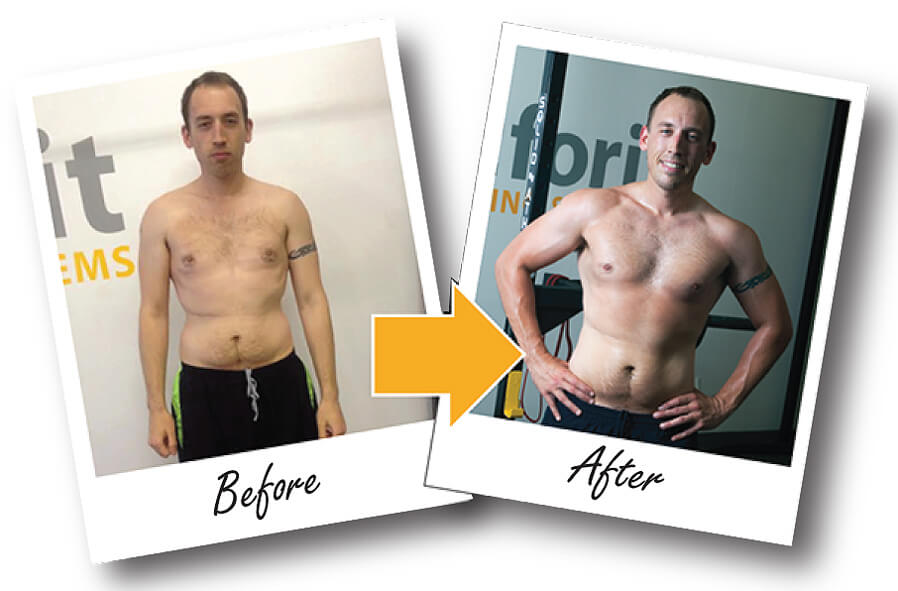 STUART – GAINED 8lbs OF MUSCLE WHILE DROPPING BODY FAT
I've been in and out the gym for years now, always trying to burn fat and gain muscle. I usually went through a cycle of enthusiasm, boredom, disappointment and then quitting because I never saw any improvements.
I then decided to try a personal trainer and found Rob's website. I had a free consultation and decided to go go for a 6 week programme due to Rob's enthusiasm, expert advice on diet and recommendations on exercise. He knows his stuff!
And the pictures prove it. I've never seen such muscle gains and fat loss within such a short period of time! Other benefits are, I now have more energy levels and sleep so much better too.
I've enjoyed every minute! So much so that I've booked another 6 weeks programme.
If you want to see fast results, I would recommend Rob in a heartbeat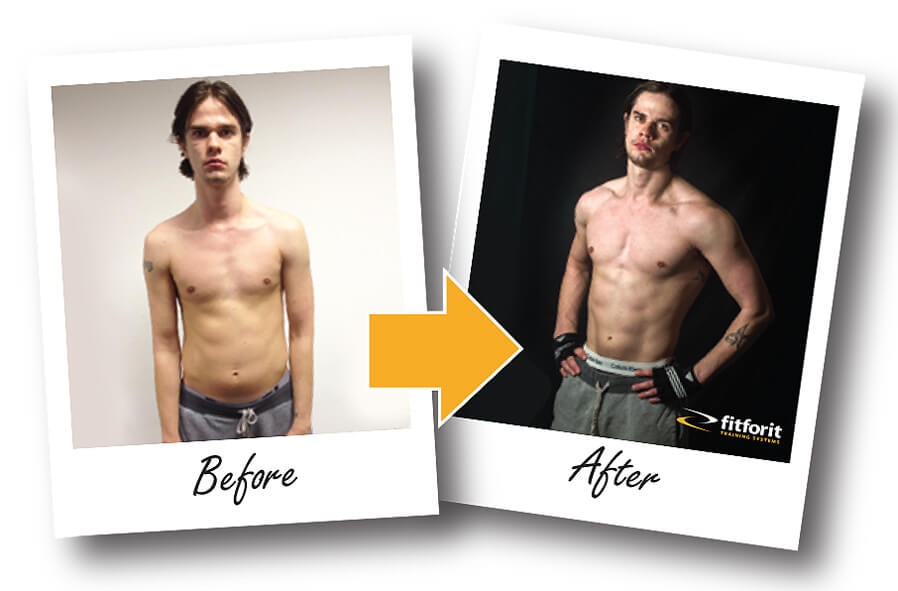 JACK – GAINED OVER 2 STONE OF LEAN MASS MUSCLE
I have gone from 9 stone 6 pounds to 11.5 stone in the past year thanks to the training from Rob at Fitforit. I have always been skinny and could never put on weight no matter how much I trained or ate. The rigorous training programme and diet advice has changed all that. My training programme has centered on strength training, metabolic circuits, and kettlebells as well as a high protein diet focusing on clean eating. Rob is a first class trainer and I would highly recommend him to anyone.

Contact Us Today To Book Your Free Consultation And Taster Session